Air Distribution Manifolds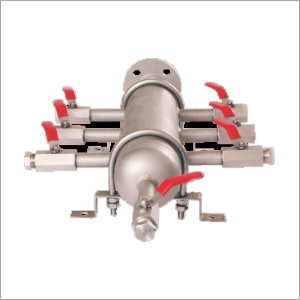 Air Distribution Manifolds
Air Distributor Manifolds
DESCRIPTION
Fluid Controls Air Distribution Manifolds are specially designed for delivering air to multiple off-take points. These are custom manufactured to suit client requirements for material, number of outlets and the valve configuration. Each Air Distribution Manifold is a combination of needle and/or ball isolation valves which are fitted to each off-take point along with a drain valve. The Fluid Controls Air Distribution Manifold can be provided along with mounting brackets.
TECHNICAL DATA
Pressure Rating

Standard upto 40 kg/cm2 (569 psig) Pneumatic above pressure as per Higher pressure upto 120/kgcm2( 1704 psig) also available
Designed as per - ASME SEC - Vlll Div – I
Fabrication & welding as per - ASME SEC IX

Material

Carbon steel, SS 304, SS 316, SS 304L also available SS 316 L Material certificate according to EN 10204/3.1b

Finish

Carbon steel - Hot dip galvanized, SS Natural

Types of Valves

Isolation Needle valve & full bore / reduce bore ball valve

Valves Material

Carbon steel, SS 304, SS 316, SS 304L, SS 316 L, Brass

Type of Ports

Valves are available for three types of ports

1) Inlet port - DIN & ASME flanges or threaded connection

2) Outlet port - No. of outlet port 2 or as per customer requirement max 20

3) Drain port - As per customer requirement

Ports Direction

Staggering or straight, Single sided or double sided parts with male /female threaded welded on distribution pipe

Type of End Connections :

Tube ends
:Single ferrule compression tube ends
:Double ferrule compression tube ends

2) DIN & ANSI flanges

3) Threaded connection (BSP, NPT)

Main Body Connected

1) With cap 2) With reducer

Outlet Port Connected :
with Main Body

1) Socket Weld 2) Butt Weld

Weld joints are Argon welded as per ASME Section IX by qualified welders.

Certification on Request

1) WPS for approval 2) UT/Radiography test

Mounting Arrangement

Three types:
1) U' - clamps and bolts Mounting 2) Bracket Mounting 3) Wall or Rack Mounting

Design and Testing Standards Followed

ISO/ISA
CONNECTION

VALVE SIZES

NPT (F)

BSP (F)

1/4''

1/4''

3/8''

3/8''

1/2''

1/2''
DISTRIBUTION PIPE SIZE AND SCHEDULE

SIZE

SCHEDULE

AVAILABILITY

1'' NB pipe standard

40/80/160/ XXS

Yes

2'' NB pipe standard

Yes

3'' NB pipe standard

Yes

4'' NB pipe standard

Yes
Contact Details
FLUID CONTROLS PVT. LTD.
5th Floor, The International, 16 Maharishi Karve Road,New Marine Lines ,Mumbai - 400020, Maharashtra, India
Phone : +918061856428
Fax : 91-22-43338001
Mr. G. V. Lakshmanan (GM Sales/Marketing)
Mobile : +919930991702, +917506420840

Registered Office:
JV Patel ITI Compound | B. Madhurkar Marg | Mumbai 400 013, Maharashtra | INDIA