Condensate Pot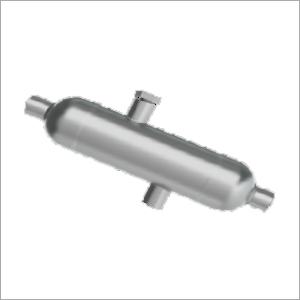 Condensate Pot
Backed with years of experience in this industry, we are highly acclaimed for manufacturing and supplying the best range of Condensate Pot. This pot is specially made for small bore tubing systems. These have been designed to trap any foreign material from the pipeline, preventing damage to the sensitive instrumentation components. The condensate is drained from the bottom valve connection, and is suitable for use with our range of ball valves, which acts as the drain port. Available in a range of materials, the entire range of Condensate Pot is in compliance with the industry standards.
Features:
Anti- wear design
Excellent rust resistance
Abrasion proof finish

Technical specification

Function
Condensate pot or chambers are used in measurement of steam or other vapors which condensate to liquid state at ambient temperature
Process
The condensate is drained from the bottom valve connection and are suitable for use with our range of ball valves
Material
The condensate pots or chambers are available in a range of materials & have Been designed accordance with ASME Vlll Div I
Material Type (With SMLS Pipe)
Carbon Steel to A 106 Gr. B
SS 304 to Grade A 312 TP
SS 316 to Grade A 312 TP
SS 304L to Grade A 312 TP
SS 316L to Grade A 312 TP
A335 Gr P11
A335 Gr P22
API SL Gr B
A333 Gr B
A333 Gr 6
Also available with dual certification.
Optional sour gas service materials are also available confirming to NACE
Std. MR-O1-O3
Design Temperature
Upto 100°C (212°F)
Hydro Shell Pressure
Upto 150 kg/cm2 [2100(psi)]@ ambient temperature, other pressure temperature conditions are available on request as special order
Construction
Method of construction is to machine and weld flat plates of proper thickness or pipe sections. Threaded ends are available while socket and butt weld ends need length to be specified
Welding
AII welding as per ASME Sec IX
Application
Refineries, liquid petroleum gas, processing plant, petro-chemical plant, also if system Difficult to shut off due to solid contents dust, rust, dirt. etc.
Sizes
2, 3 and 4 large size upto 8
Length
Pipe length 8 Larger length available upon request
Pipe Schedule
40, 80,160, XX Seamless Pipe
Features
1/2 NPT as per ANSI B 1:20:1 taper pipe thread
Socket weld as per ANSI B 16.11
Butt weld as per ANSI B 16.9
All carbon steel condensate pots are hot deep galvanized
AII condensate pots are 100% tested at factory prior to shipment
Ends will be protected with dead plug/plastic caps
Certifications
IBR form IIIC available on request
Chemical & Physical
Butt weld joints will be tested for 100% radiography and fillets will be D.P. Tested
Contact Details
FLUID CONTROLS PVT. LTD.
5th Floor, The International, 16 Maharishi Karve Road,New Marine Lines ,Mumbai - 400020, Maharashtra, India
Phone : +918061856428
Fax : 91-22-43338001
Mr. G. V. Lakshmanan (GM Sales/Marketing)
Mobile : +919930991702, +917506420840

Registered Office:
JV Patel ITI Compound | B. Madhurkar Marg | Mumbai 400 013, Maharashtra | INDIA